Types of paints and their uses
If a painting project is on the horizon, take the time to discover the different types of paint available and the projects to which they are best suited.
Types of Paint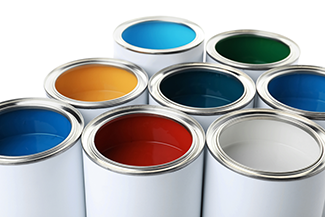 There are three types of paint: oil, acrylic, and water-based (latex). All paints are formulated with water or oil-based binders combined with pigments to create the desired color.
Oil Paint
Oil paint offers good adhesion, excellent durability, and stain resistance. Don Brees, project manager with Rosie Right | Design. Build. Remodel. notes that not many oil-based products still being manufactured. The Environmental Protection Agency (EPA) has been phasing those out over the years.
Acrylic Paint
Acrylic paint is made of pigment suspended in an acrylic polymer solution and acrylic resin. It is chemical-based and becomes water-resistant when dry. Acrylic paint dries quickly and is ideal for exteriors and some interior areas.
Latex Paint
Latex is a water-based paint. It is also made from acrylic resin. However, it is ideal to use latex for large interior surface areas. It provides a long-lasting finish with good performance values. Latex paints are easy to work with, dry quickly, and are extremely durable.
Note: Arizona Painting Company, a Rosie-Certified Partner tells us that there are hybrid paints which can be used both indoors and outdoors. However, these are not as effective as traditional interior and exterior paints and lack the necessary ingredients and additives. There is no mildew, moisture, or crack protection, and is less likely to withstand the elements outdoors. Overall, hybrid paints are best for smaller projects, and do better inside than outside.
"All major paint manufacturers in the United States produce three classes of paint," says Don Brees, project manager with Rosie Right | Design. Build. Remodel. "There are low side production-grade paints, midline good quality paints, and premium grade paints. Most use special names for the level of quality."
For example, Sherwin-Williams' highest-grade brand is Emerald®.
The easiest way to find out the class of paint is to contact the paint store to find out what the level of quality is for the specific name and its intended recommended surfaces for application.
Speaking of paint stores, when buying paint, Rosie suggests buying directly from a paint store, not a home improvement center. The salespeople at the paint store focus on one thing – paint. They are not a "jack of all departments" who know a little about this and a little about that.
Additives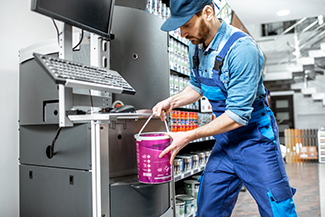 Sometimes, elements are added to paint for special jobs. These are just a few.
Enamel Resins
Enamel resins are added which gives the paint a light film covering. This film is available in several sheens/glosses and is durable and washable, making it ideal for bathrooms and kitchens where walls may be routinely scrubbed or wiped down.
Acrylic Resins
Acrylic resins can be added and have elasticity qualities to keep the paint from cracking as frequently, but it still allows the structure to breathe, letting ambient air and moisture pass through the walls.
Sherwin-Williams' Paint Shield
In this age of germ hyper-awareness, many people are looking for more options other than disinfectant sprays and wipes to keep their homes free of bacteria and viruses.
Sherwin-Williams' Paint Shield ® has microbicidal properties. Microbicidal compounds actively kill an array of microscopic organisms, including both bacteria and other infection-causing microorganisms. They claim in just two hours, the painted surface kills bacteria, helping to prevent the spread of infections like Staph, MRSA, E. coli, VRE, and other bacteria to ensure a clean and sterile space.
Paint Sheen
Paint sheen, also known as finish, refers to how much shine is in the paint. As explained by Arizona Painting Company, once dried, some paints are shinier than others and this all comes down to the percentage of sheen. The more sheen a paint has, the shinier it will be. Paint sheen affects more than just the shininess once the paint dries. It also impacts how durable or easy to clean a wall is. There are a few different options when it comes to finishes so knowing the pros and cons of each will help you make the best decision for your home.
High Gloss Paint Finish
The shiniest paint finish with the highest percentage of sheen is called high gloss. This finish option contains 70-89% sheen making it extremely shiny. The perks of this shiny option are that it makes the walls or paint surface easy to clean. Because it is so durable and easy to wipe down, it is perfect for a busy area of the house where there is a higher likelihood of the surfaces getting dirty. Many use this finish in their kitchen. The kitchen is a central communal area of the home where things are bound to get messy. The downside of this sheen is that it doesn't hide dirt and imperfections well. Another con is that when a touch up is done, it will be noticeable since the sheen from the touch up won't blend with the original coat. Because of this and its shiny appearance, it is typically not used for an entire wall or big surface. A high gloss finish is best used on doors, baseboards, or trim.
Brees adds, "The higher the sheen, the greater the LRV - Light Reflective Value. Shinier paint finishes also tend to cause you to see the color differently due to the increased LRV, so it's wise to choose your desired sheen, then have your color considerations made into samples in that sheen for accurate desired color representations."
Semi-Gloss Paint Finish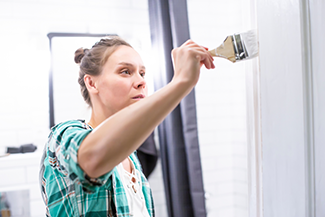 The second shiniest paint finish is semi-gloss. This option's sheen percentage ranges from 41-69%. Like high gloss, it is on the shinier side which makes it easy to wipe down and clean when dirty. It is also a great option for heavily populated areas of the home like the kitchen. If you want something easy to clean and durable but not as shiny as the high gloss finish, this is the perfect pick for your paint project. It looks great on cabinets, trim, baseboards, and doors. The kitchen isn't the only great place for this finish. Semi-gloss works well in the bathroom, kid's rooms, hallways, or entryways. When using semi-gloss, make sure to smooth down the surface as much as possible before painting because this gloss will show any surface imperfections.
Satin Paint Finish
Is less glossy but still easy to clean is what you are wanting, look no further. Satin finishes are comprised of 26-40% sheen which makes it the third shiniest on the list. While it is still visibly glossy, it is less dramatic than the first two choices when it comes to shine. The silky, smooth appearance makes it a popular choice. It is still easy to clean and won't show as many imperfections as the high gloss and semi-gloss finishes. This finish works in high traffic areas of the home too. It is perfect for the living room, laundry room, bathroom, kitchen, dining room, furniture, and doors.
Flat and Matte Paint Finish
The last two paint finishes are often put in the same category and used interchangeably but there are slight differences between the two. A matte paint finish consists of 5-9% gloss and while it is not the easiest to clean, it hides imperfections well and is easy to touch up. A surface painted with a matte finish doesn't have a lot of shine due to the low percentage of sheen. A matte finish looks great in a room with lower traffic such as a guest room, dining room, ceiling, or formal space. A flat paint finish has even less sheen than a matte paint finish. This paint finish is harder to clean and has nearly no shine. This finish choice is perfect for ceilings or select walls in areas of the home with little to no traffic.
The Right Paint Per Project
You can't use the same paint for the outside of your house and on your kitchen cabinets and expect the same results. You need to select paint that is formulated for specific projects and surfaces.
Interior Doors
Many homeowners choose semi-gloss paint for interior doors because it's extra-durable. However, many of the newer flat paints are formulated for high-traffic areas and are as easy to clean as glossy paints. Instead of high-gloss, consider using a semi-gloss or satin finish instead for a cleaner, more updated look. Click here for painting directions.
Kitchen Cabinets
Splashing water and humidity from cooking creates wear and tear on kitchen cabinets. Emerald® Urethane Trim Enamel is water-based enamel that resists yellowing compared to traditional oil-based coatings and creates a hard durable finish that withstands the wear and tear of frequently cleaned and used areas. It also goes on in fewer coats and can be used for interior and exterior projects alike.
Interior Walls
There was a time when the only paint you could scrub free of fingerprints, food spatters, and crayon art was high-gloss. Today's flat paints are formulated for washing.
A matte finish looks a lot nicer on a wall than a shimmery, reflective surface. Consider a flat matte paint in every room, including the bathrooms and the kitchen.
Flat paint also minimizes nail hole cover-ups and other flaws better than gloss, and it touches up nicer.
If you prefer durable gloss on the walls of your wet rooms, kitchen, bathrooms, and laundry room, tone it down a little with a satin or semi-gloss finish instead of high-gloss. Then stick with flat or eggshell for living areas, bedrooms, and hallways for a cleaner, up-to-date look.
Home Exteriors
Exterior doors and trim must withstand temperature fluctuations, rain, hail, snow, and dirt.
Choose water-based for pine and fir surfaces.
Choose oil-based or an appropriate engineered paint for cedar and cypress, metal, and fiberglass.
Semi-gloss is ideal for front doors because it withstands more wear, is stain-resistant, easily wipes clean, and highlights carvings on the door.
Whatever you choose, make sure the paint can is labeled "exterior."
The basic rule for most exterior painting in Arizona is to use a good quality, 100% acrylic exterior paint on wood, masonry, stucco, metal, and vinyl. Not that just because it's labeled "100% acrylic" does not automatically mean that it is also good quality paint, according to Brees. Make sure the paint you choose is high-quality and formulated for our climate.
Do NOT paint an entire stucco wall with elastomeric paint. It is so watertight that it prevents the walls from "breathing." If water finds its way into or behind your walls, it will get trapped there and cause bubbling paint and mold growth. Use 100% acrylic paint to prevent problems from water damage.
Buy from the major paint brands. They will probably have a formula of paint that is specific for use in the Southwest. It's been designed to handle the high heat and powerful UV rays of the desert. A paint salesman can tell you what ingredients were mixed into the paint to handle desert climate conditions. Remember that lighter colors will look better and last longer in the desert than darker colors. Premium paint will resist cracking, peeling, and blistering and carry a manufacturer's warranty.
Get Ready For Prime Time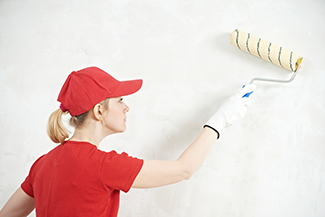 To ensure you get the most out of your efforts and paint, you must prime the surface before painting.
Primer is always used on non-painted walls to seal the surface, so the paint doesn't just soak into the wall. Rosie always puts a coat of primer on before painting, even if the wall has been painted several times. This is good wall preparation and adds depth to the paint. Always use a primer bonder when painting over an enamel wall with flat paint. Flat paint doesn't stick well to glossy films and can cause big messes down the road. Also, primer is always a good idea when going from a dark color to light or pastel. Primer can also be tinted to the new wall color. Generally, primer is less expensive than regular paint, and it takes at least a few coats of paint to cover a dark wall.
That said, Sherwin-Williams' premium line of Emerald® Interior Paint is a paint and primer in one. Its coverage hides dark colors, resists water streaking, and helps prevent stains from penetrating.
A Note About VOCs
Volatile Organic Compounds (VOCs) are emitted as gases from certain solids or liquids. VOCs include a variety of chemicals, some of which may have short- and long-term adverse health effects including eye, nose, and throat irritation, shortness of breath, dizziness, and headaches. Concentrations of many VOCs are consistently higher indoors (up to ten times higher) than outdoors. VOCs are emitted by a wide array of products numbering in the thousands.
In terms of paint VOCs, it can be especially dangerous to use paint high in VOCs near enclosed food, spices, and eating utensils.
Many paint brands are lowering the VOCs in their paint. Look for interior paints with less than 50 grams of VOCs per liter. Check the label next time you buy indoor paint to make sure you're buying a health- and eco-conscious brand.
Get What You Pay For
You really do get what you pay for with paint, especially exterior. Top of the line, more expensive paint is worth the extra money. But remember good paint is only as good as the prep work. You get the most of your time and money when you combine good paint with good patching, repair, and application. If you are unsure of the proper preparation and application, have a licensed professional do the job for you.
Home Maintenance To-Do | #BestHomePaint
###
Podcast
We cover listener questions about flickering lights at random times, slab leaks and piping, raised planter water damage near patio, dust issue in the home, elastomeric versus 'breathable' paint, what we recommend about those types of paint, and more!
Photo Credit
Related Content