Simple Projects for Your Honey to Honey-Do
Honeydew: A delicious fruit that we enjoy throughout the warm and hot seasons.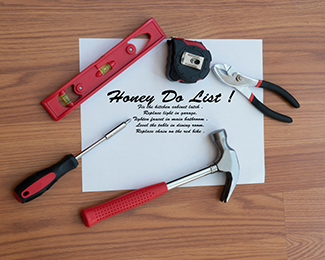 Honey-Do: A never-ending list of projects you want your honey to do around the house.
When the Honey-Do List gets too long, it can be overwhelming, and none of the projects get done.
Let's tackle that list with these simple tasks, many of which may already be on your list. Just completing a few may motivate your honey (or you) to keep going. Make sure you have all the tools, parts, and materials handy before starting these tasks. Some of which may require a trip to the store.
Cleaning
Replace or clean old, dirty light switch cover plates. If you remove them to clean, make sure they are completely dry before reinstalling.
Clean the gutters.
Remove faucet aerators and soak them in vinegar to remove crusty mineral deposits. While they soak, fill a plastic baggie with vinegar and secure it with a rubber band to the faucet head. Let the faucet head soak for about 15 minutes (maybe more if there is a lot of build-up), then gently brush off the mineral deposits. Be careful not to scratch the finish.
Clean out spilled food from the microwave. Fill a mug with vinegar and nuke it for two minutes. The grime will slide off with the swipe of a damp sponge. For super-caked on grime, you may need to repeat the process.
Empty the crusts and crumbs from the bottom of your toaster or air fryer and polish the outside.
Dust the blades of your ceiling fans and the tops of sconces and lighting fixtures to clean and brighten the room.
Vacuum the dust and grime out of your bathroom exhaust fans and air vents throughout the house.
Use an old toothbrush to scrub the grout between the tiles in the kitchen with soap and water. Do this just 15 minutes a day for several days and you'll get be able to do the entire kitchen floor.
Polish all the fronts of the stainless-steel appliances in your kitchen.
If you have your own steamer, steam clean the carpets.
Maintenance & Repairs
Clean out and sanitize the refrigerator and change the water filter.
Fill old nail holes in a wall where a picture used to hang. Spackling paste, caulk, or even toothpaste can fill an especially tiny hole. Let the filler dry. Then sand it before repainting.
If you have leftover paint, touch-up tiny scrapes and marks on interior walls.
Change the air filter for your HVAC system and other appliances.
Replace the caulk around sinks, bathtubs, and showers. Caulk one fixture each weekend.
Replace the weatherstripping around your exterior doors.
Run a short hot-water cycle through your clothes washer with a cup full of vinegar in the water. It will prevent odor build-up.
Place a mug upright on the top rack of your dishwasher. Fill it with vinegar and run a cycle. It will remove and prevent odor and mineral build-up.
Organization
Untangle and label the cords for the computer, modem, and other electronic equipment in your home office or entertainment area. Binder clips, zip ties, and bread bag ties can keep charging cords, in place.
Clean out a small closet or a dresser. Place unworn or gently used clothes, shoes, and handbags in bags. Take them to a consignment shop or charity. Toss the remaining unwanted items that are in poor condition.
Organize your junk drawer.
Match plastic containers with their lids. Recycle lids without a container or use them to sort tiny materials for crafting projects or spacers in between glasses in the dishwasher.
Sort books you no longer need or want (unless you are Rosie). Box them up to donate or resale . . . and take them.
What happens if your honey won't honey-do? Call a licensed handyman. Just mentioning that you will hire someone to do it, may get your honey moving.
After your honey has completed a few projects, reward him or her with a big, juicy slice of fresh honeydew. . . then secretly add more items to the list!
Home Maintenance To-Do: #HoneyDosForYourHoney #HoneyDo
###
Podcast
The weather is great! That means out comes the Honey-Do List. That's a good thing though! Tune-in - we go over some of those tasks and how to tackle them. Rosie and Jennifer talk about their main takeaways from the 2022 International Kitchen And Bath Show. Plus, we answer homeowner questions on lifting sheet vinyl flooring, tank versus tankless water heaters, and Rosie's tips for a successful Super Bowl/Valentine's Day Weekend!
Photo Credit
Related Content