TLC for Your Territorial Home
There's something about the Old West building style that entrances Arizona residents – the flat roofs, the parapet walls above the roofs, the viga tails, the exposed beams in the great room and the rugged wooden posts on the patios.
But today's territorial- or Santa Fe-style homes usually have walls covered in stucco, not adobe. Some keepsake houses out of the past still have genuine adobe walls though they're fast disappearing, according to John Reuter, a builder and remodeler in Tucson, a place renowned for its building style.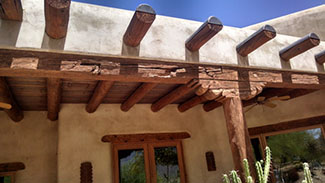 If you've always dreamed of having an authentic adobe home, be advised that adobe is no longer considered strong enough to be the main structure for a house. "Instead some houses will have conventional wood framing or cement block walls with an adobe brick veneer on top," Reuter said.
If you're lucky enough to have a territorial-style home, even though it's not made of adobe, some of those Western-style features in your house need regular special care:
The flat roof:
If that roof is still covered with built-up roofing – rolled asphalt that was stuck to your roof – it's time to switch to foam coating that has no seams or joints. It will insulate your home, reflect the sun's heat, and last a long time. Every five years, that foam roof needs an elastomeric coating applied on top to cover any chips or holes.
Stucco parapets around the roof:
It is critical to keep checking your parapets for cracking or separations and seal as needed. The cracks can be filled with elastomeric caulk and then parapets can be repainted. That will help prevent leaks into your house or garage during rainstorms.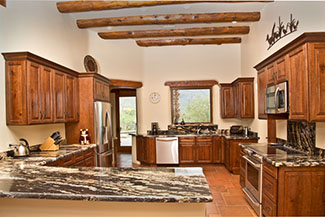 Interior beams and outdoor vigas:
According to Reuter, in the past some building methods used for territorials ran the large exposed beams in living spaces through the exterior walls and left them exposed to the weather. The 12 to 16 inches of wood outside is called a viga tail. Rain and other outdoor conditions could cause those tails to develop rot and those deterioration problems could be transferred to the beams inside the house.
However, current building methods do not usually involve letting the beams pass completely through the wall. They're fastened inside to look that way, but instead those decorative vigas are attached separately to the home's exterior to continue the Western style look of the house.
But that's not always the case. "Many wooden beams with vigas do pass through the walls to the outside and are the actual structural support for the house's roof as in my own Santa Fe style house," said Steven Williams of SAW Design and Fiberglass Vigas in Tucson.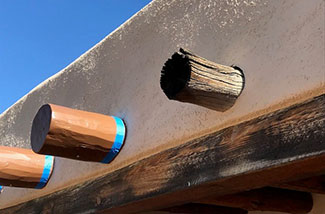 When the 12 to 16 inches of wood in a viga tail are exposed for years to outdoor water and weather conditions, they can eventually start to rot away whether the beam passes through the wall or not.
It can be very costly to remove vigas and other real wood trim and replace it with the same features done again in wood.
So, Williams has developed a process for protecting vigas by covering them with fiberglass molds, textured like wood, that can also be painted to match the home's color scheme. "Viga tails covered in fiberglass have saved many homes from this decay and replacement and saved them thousands of dollars," he said. Williams has traveled all over Arizona to do these types of repairs.
Other wood trim on windows that may need extra attention include lintels and "eyebrows," decorative strips of wood installed at the top of the window.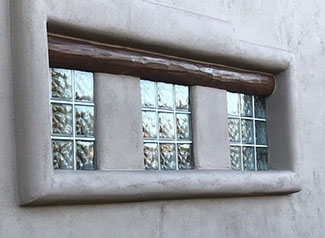 However, even with the fiberglass covers, homeowners have to be very careful to check regularly on the condition of the beams inside their homes.
Wooden posts on the patio:
Special attention is also needed for maintaining wooden posts on patios, including sealing the wood regularly. Although you do give them proper care, it's possible that they will eventually deteriorate and need replacing. Wood similar to the original is probably the best choice for replacements.
Stucco exterior walls:
In Arizona repainting is something that homeowners don't do frequently enough. Remember, that a thin coat of paint is often the main protection for your house which is subject to some of the hottest sun in the United States. That stucco really makes a great finish for Western-style homes.
Taking care of a territorial-style home can require a lot of effort. But the beauty enjoyed by living in these rustic-style houses can be a great joy and reward for homeowners and their families.
###
Photo Credits:
RELATED CONTENT:
---
Print this page