The benefits of hardwood flooring
With all the innovations in flooring, it can be easy to forget that wood floors have been around for centuries. Wood has withstood the test of time as a flooring material.
A solid wood floor is more than a covering; it adds strength and stability to the floor system. A one-inch thickness of wood has the same insulating value as fifteen inches of concrete. Wood is durable and long-lasting – occasional sanding and refinishing essentially results in a brand-new floor. The smooth surface of a wood floor does not retain mildew or absorb dust or dirt, therefore, greatly simplifying cleaning while keeping allergens down in your living space.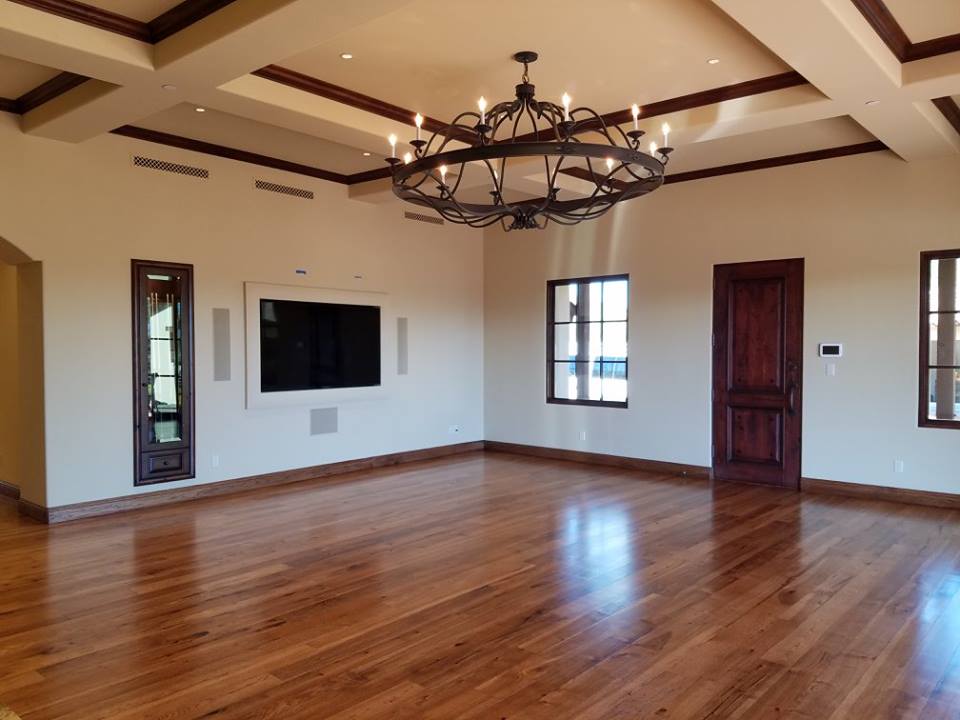 Bobby Serafin, general manager, Mission Hardwood Floor Co ., a Rosie Certified Partner, explains the existing and different floor types, everyday maintenance, and professional maintenance required to keep the floors going for a long time.
"Perhaps the most appealing characteristic of wood flooring is its attractive appearance and natural warmth," says Serafin. "Unlike stone, wood is not cold. Wood floors liven up a dull room, enhance any architectural style, complement virtually any furniture design scheme, and add value to the home."
Wood flooring may be ideal for people (and pets) with mobility issues or chronic back and knee problems. Tile, carpet, and stone can be more difficult to maneuver and stand on.
A combination of qualities should be considered when selecting flooring; appearance-related attributes such as texture, grain, and color, as well as mechanical properties like dimensional stability, durability, workability, and ease in finishing; and finally, availability and cost.
Types of Floors
Solid Wood Floors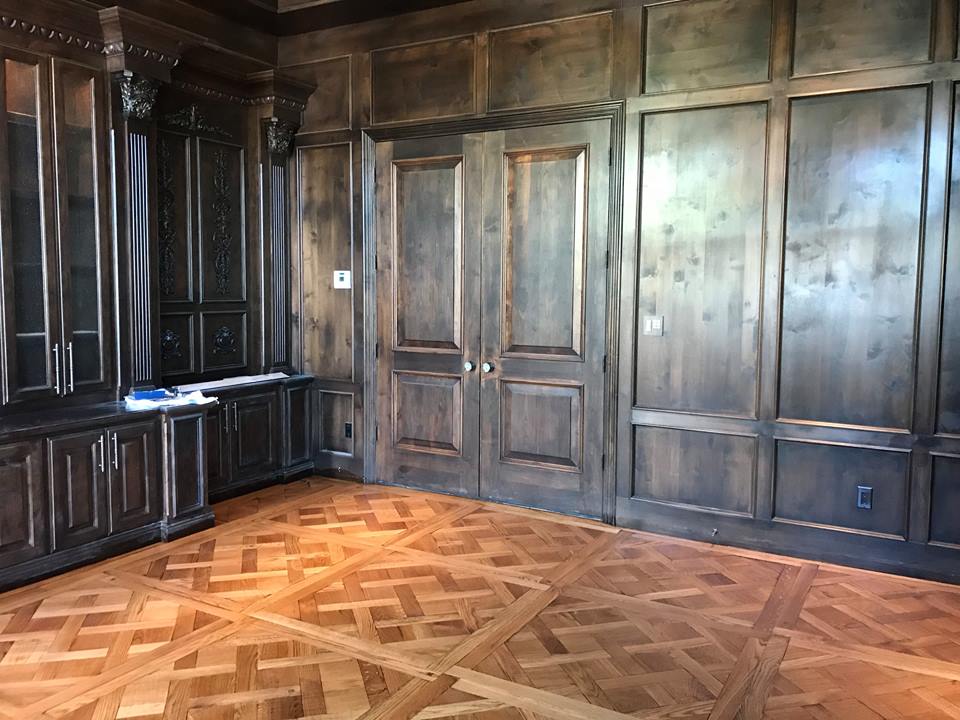 "Because there are so many variables; the wood species, wood grades, the color of stain, and the sheen of the clear coat, every floor has its own unique character. Additionally, wood can be colored or stained to ensure a perfect flow with the design you are trying to match or achieve. Solid hardwood flooring can be refinished several times, which will give you the option to change the floor's character and color down the road," says Serafin. "A solid hardwood floor is made for the ages and will usually outlast your home, providing decades of reliable service while enhancing the overall beauty of your space."
Pros:
Highly Customizable -- Choose almost any color, texture, and sheen level.
Durable -- A solid hardwood floor can be refinished and recolored multiple times.
Stable -- A solid wood floor is less prone to cracking and checking in our dry climate.
Cons:
Time -- It takes slightly longer to craft a solid hardwood floor on-site due to the extra steps
involved.
Price -- Solid hardwood floors are usually a bit more expensive initially, but they make up the difference in the long run.
Engineered Wood Floors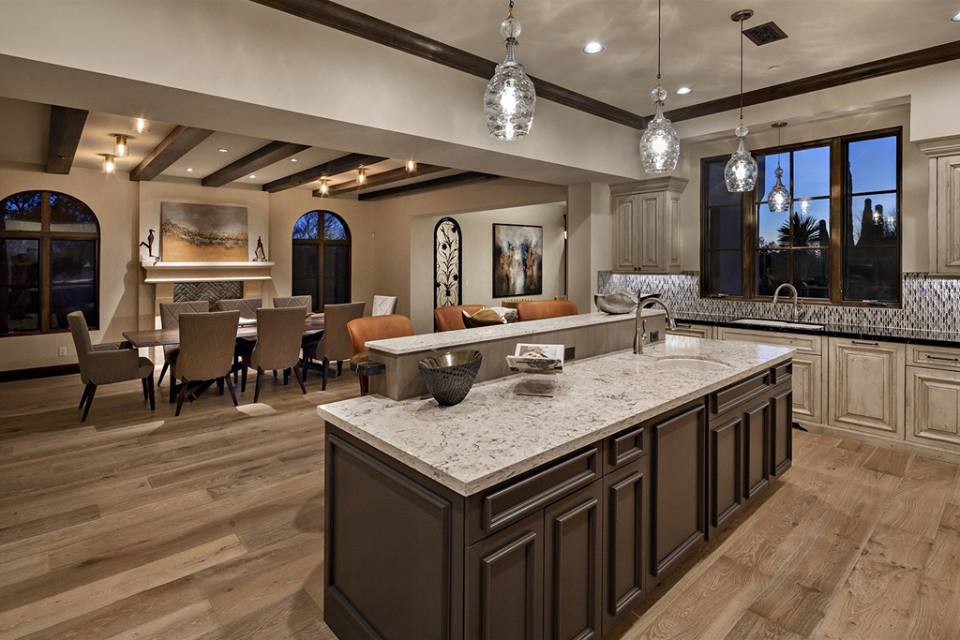 Engineered hardwood floors can have the same appearance as solid hardwood floors. On an engineered hardwood flooring plank, the top layer (wear layer) is usually solid hardwood but much thinner than a solid plank of hardwood flooring.
The installation of engineered wood floors is much faster than a solid hardwood floor. However, it cannot be refinished as often, if at all. Most engineered products are pre-finished, which saves time on site as well.
Pros:
Time -- It takes half the time to arrive at a finished product compared to a solid unfinished installation.
Thickness -- Engineered wood floors can be as thin as three-eighths of an inch and can go up to three-fourths of an inch. This allows for flush transitions to another flooring in the home when remodeling.
Price -- Engineered wood floors can be more affordable than solid wood floors.
Cons:
Color – The color and finish selections are limited by the manufacturer. They are often discontinued because of trend changes, making engineered wood floor repairs and replacements difficult.
Replacement -- Most of the time, the floor cannot be refinished. Once worn down to bare wood, the engineered floor must be replaced.
Uneven – The edges are beveled on most pre-finished hardwood floors due to very slight unevenness during the milling process called, "mill intolerance."
Special Attention -- Specific attention is required when installing engineered hardwood floors in a dry climate. The potential for failure of the floor is greater than with a solid wood floor.
SPC/Vinyl Floors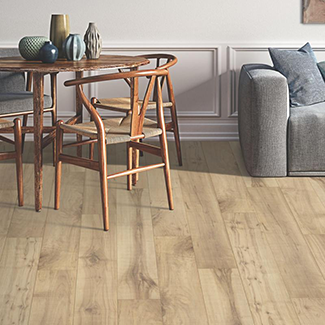 SPC (stone polymer core) flooring has been around for a few years shy of a century. It is made with different layers compressed together and is used in homes, commercial buildings, healthcare, you name it.
Pros:
Durability -- Very durable, dent, and scratch-resistant.
Waterproof – Spills are not likely to damage the surface (unless it's red wine or fruit punch).
Cost -- The least expensive flooring option.
Maintenance – Is easy to maintain.
Time – It takes the least amount of time to install.
Cons
Sizing -- Most manufacturers make the planks the same length, creating a layout pattern.
Application -- floating application, not glued down.
Maintenance
"Before cleaning or repairing your floor, it is important to identify the flooring's material and finish (urethane, acrylic, penetrating oil, hard wax). Cleaning or repairing without knowing what you are working with could damage it," says Serafin.
Use appropriate/recommended cleaner. Serafin recommends Bona Hardwood Floor Cleaner or Woca oil soap and conditioner. Woca oil is a VOC-free finish that is ideal for resurfacing hardwood floors, especially in high-traffic areas. Find it online or in most home improvement stores. If you use the wrong cleaners it could void the warranty.
Recoat or re-oil your floor per the manufacturer's recommendations. Refinish as needed.
Regardless of the type of flooring you choose, it must fit your lifestyle. Keep it well maintained and it will beautifully serve you for many, many years.
Rosie on the House Special: Receive a free cleaning kit with a Mission Hardwood Floor Co. floor purchase. Offer expires May 31, 2022.
###
YouTube | What To Expect When Refinishing A Hardwood Floor
Did you know that around 80% of Arizona homes have some element of wood flooring in them. Join Romey Romero as he chats with Bobby Serafin of Mission Hardwood Floor Co. - a Rosie-Certified Contractor - to talk about what you as an Arizona Homeowner need to know about maintaining the wood products in your home.
Podcast
With all the innovations in flooring, it's easy to forget that wood floors have been around for centuries. Wood has withstood the test of time as a flooring material. Bobby Serafin of Rosie Certified Mission Hardwood Floors explains the benefits and installation process of solid and engineered flooring. Including maintenance and repairing floors that could be the only floor you'll ever want.
SPONSORED BY Mission Hardwood Flooring Co.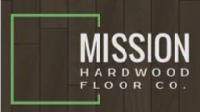 Mission Hardwood Floor Co. is your source for the most beautiful new, reclaimed, or engineered hardwood floors in the industry. For over 45 years, our company has striven to provide timeless quality and exceptional service that exceeds your highest expectations. Be sure to contact us or visit us in our Scottsdale showroom today to see how we can make your vision a reality!
Photo Credit
Mission Hardwood Floor Co.
Shutterstock
Related Content
---
Print this page